SM80 Customer Review
Date Posted:11 January 2020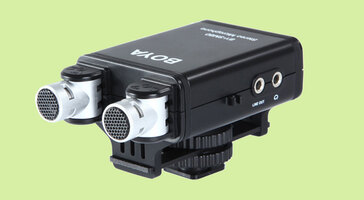 Happy customer reviews the Boya SM80
---
Hi Folks!
Just to let you know it arrived in great shape, and I'm remarkably impressed with what was after all a relatively inexpensive stereo mic pair. I wasn't expecting too much, however a colleague uses Boya stuff and they seem to think it is good - and I must agree. Stereo sep. is excellent, the dead cat provides a lot of wind noise reduction, whilst interfacing is straightforward - couples up to my DP008EX nicely, and with a slight EQ adjustment, the sound quality is perfectly acceptable. Good stereo o/p via the headphones jack, and as an added bonus the dead cat is just the right size to fit an H1 handy recorder.
Not "quite" in the same performance bracket as, e.g. a Deity D3, but not in the same price bracket either, so overall an excellent buy! Thanks for a great product, and I'll be looking at other Boya mics in the future.
Best regards from a happy customer,
Phil S.
---