Returns Policy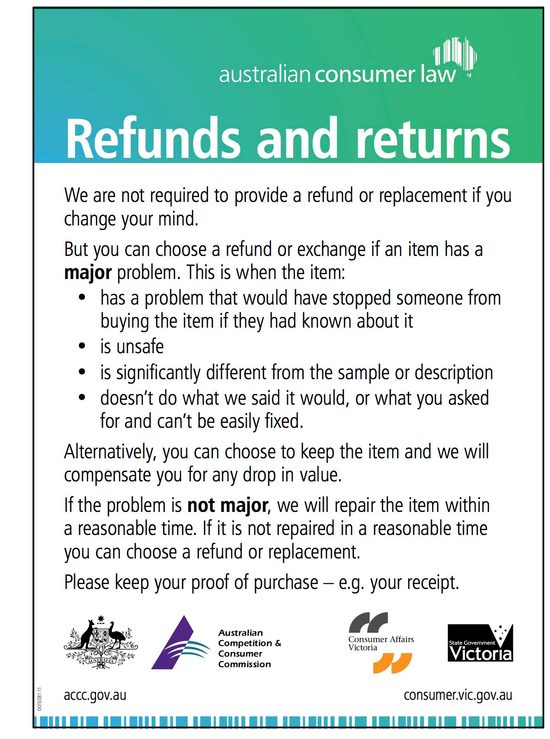 There is something wrong,
I want a refund –
We are not required to provide a refund or replacement if you change your mind.
But you can choose a refund or exchange if an item has a major problem.
This is when the item :
has a problem that would have stopped someone from buying the item if they had known about it

is unsafe

is significantly different from the sample or description

doesn't do what we said it would, or what you asked for and can't be easily fixed.
Alternatively, you can choose to keep the item and we will compensate you for any drop in value.
If the problem is not major, we will repair the item within a reasonable time. If it is not repaired in a reasonable time you can choose a refund or replacement.
Please keep your proof of purchase – e.g. your receipt.
My item is DOA - (Dead on Arrival)
If the item you purchased from us is DOA (Dead on Arrival), or faulty out of the box or develops a fault that is covered by the warranty within first 30 days from the delivery date, we will endeavor to replace the item immediately with a new one from our stock, and if this is not possible for any reason, offer you a refund on the item.
If your product is found to be DOA, you should report that to us immediately. Please keep the item in its original undamaged packaging and follow the Return Procedure below and we will contact you regarding the return of your item.
Please note :
When first using any new piece of equipment, it is critical that you read the manual and follow the setup instructions to ensure you understand how to operate your new equipment.
We often find that newly purchased equipment returned to us is not faulty at all, but is being incorrectly used, so be sure to check the all the basic procedures before returning your item.
Read the manual

Check all connections, leads and plugs

For condenser microphones Phantom Power is activated

Visit the manufacturer's website for any updates on product manuals, software, or firmware updates
If you need further assistance you can contact us on 1800 633 363 or email support@ccslightsound.com.au.
Please make sure you quote the number on the invoice you will have received with your purchase.
I bought the wrong product -
We are not required to offer you a refund or exchange of a product purchased if you simply changed your mind or made the wrong purchase decision.
However, at our discretion, purchases can be returned within 30 days from the delivery date for a refund, exchange or credit, subject to the following conditions:
Items must be returned unused in original and new condition with all manuals and accessories that were supplied

All packaging must be complete, unmarked, undamaged and with product seals unbroken

Headphones Earphones and Microphones will not be accepted for return unless they still have the product seals and wrapping undamaged and intact.

Indent and special order items will not be accepted for return or exchange

A restocking fee of 20% may apply

Shipping costs paid are not refundable

Return shipping costs are at the buyer's expense

For items sent with free shipping we reserve to right to deduct an amount equal to the cost of shipping

Any items damaged due to reasons not covered under warranty will not be accepted back for refund

Returns of items of a consumable nature are not accepted.

A copy of your Tax Invoice is supplied with the return goods
Return procedure
To facilitate a return you will need to contact us to receive a Return Authority number prior to return of your item.
Please email returns@ccslightsound.com.au with the following information about your product
Invoice Number

Date of purchase

Brand

Model

Serial Number

Reason for return
Please also include a contact telephone number.
If the return is accepted we will contact you as soon as possible with the Return Authority number and the address for you to send your item back.
Please note that you will be responsible for the cost of shipping the returned item back to us. Items shipped to us C.O.D. will not be accepted.
Product returns are at the buyer's expense.
The cost of the shipping is not refundable. Where an item was shipped to you with free shipping, an amount equal to our cost of shipping will be deducted from any refund.
Further information :
Products and components of a consumable nature, including faders, lamps, lighting filters, tapes, windsocks, styli etc. are not accepted for refund.
Similarly, indented or special order items are excluded from our refund policy.
Second hand items are workshop tested and sold in good working order unless otherwise stated. There is no manufacturer's warranty on second hand items, however we offer a money-back guarantee that the product is working when you receive it, unless it was sold with any described faults.
We will endeavor to make you 100% satisfied with your purchase. If you have a problem with your item your first point of contact is always to call or email CC's Light & Sound to let us try and resolve your issue.
Should you not be completely satisfied with the service we have provided, here are some links to assist you in understanding your consumer rights.
ACCC - Australian Competition and Consumer Commission
Consumer Affairs Victoria - Guarantees, warranties and refunds