About Us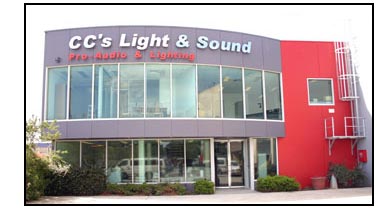 Established in 1989 CC's Light & Sound specialises in the sales of pro audio, lighting and associated equipment for the entertainment industry.
New Equipment
CC's Light & Sound are authorised resellers of the brands we range and all products are sourced direct from the brand manufacturer or Australian agent.
All new equipment is covered by a full manufacturers warranty, see our warranty page.
Secondhand Equipment
Secondhand items are workshop tested and sold in good working order unless otherwise stated. There is no warranty on secondhand items, however we offer a money-back guarantee that the product is working when you receive it, unless it was sold with any described faults.
Secondhand lights are supplied without lamps unless specifically stated as "with lamp"
Our Port Melbourne Showroom (map)
CC's Light & Sound Pty. Ltd.
Unit 5, 473 Williamstown Road Port Melbourne Victoria 3207 Australia.
Business Details
A.B.N. 83 007 106 603
Telephone : 03 9695 3999
Facsimile : 03 9695 3988
Email : sales@ccslightsound.com.au