Castor-Glide Digital Piano Castors
Date Posted:6 September 2019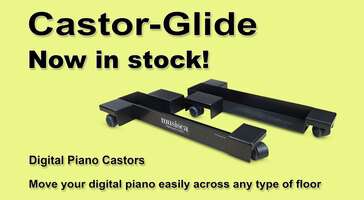 Move your digital piano easily across any type of floor with 3 rotating wheels on each side.
---
Musisca Digital Piano Castors are high quality, heavy duty castors cleverly designed to fit almost any digital upright piano.
Aided by a castor lock on each side, they allow easy manoeuvrability with scratch free wheels protecting the base of the piano and the flooring.
The extra safe, low profle design raises the piano only 18mm off the ground, enabling you to play with the castors attached and also keeping a low ground clearance to aid stability. Non-slip shoes ensure that your piano will stay in position, even on the most polished of floors.
Move your digital piano easily across any type of floor with 3 rotating wheels on each side
Universal fit for all popular digital piano models
Made from black powder-coated steel with non-slip rubber mats
Only raises piano 1.8cm off the ground for increased stability
Swivel wheels with scratch-free rubber tyres and secure brake
External dimensions (per castor): 63cm x 27cm (length x width)
Internal dimensions (per castor): 54cm x 9.5cm (length x width)
Max. piano feet size: 54cm x 9.5cm (length x width)
Max. load: 150kg
Compatible digital piano models
Yamaha Clavinova & Arius:
Arius YDP series: YDP113, YDP121, YDP130, YDP131, YDP140, YDP141, YDP142, YDP143, YDP144, YDP150, YDP160, YDP161, YDP162, YDP163, YDP164
Clavinova CLP series: CLP280, CLP380, CLPS406, CLPS408, CLP430, CLP440, CLP470, CLP480, CLP525, CLP535, CLP545, CLP575, CLP585, CLP625, CLP635, CLP645, CLP675, CLP685
Clavinova CVP series: CVP401, CVP403, CVP501, CVP503, CVP601, CVP605, CVP701, CVP705
Clavinova CSP series: CSP150, CSP170
Casio Celviano:
AP series: AP6BP, AP25, AP33, AP80, AP200, AP220, AP250, AP260, AP270, AP420, AP450, AP460, AP470, AP620, AP650, AP700
Grand Hybrid GP series: GP300, GP400, GP500
Roland LX, RP, & HP:
RP series: RP101, RP201, RP301, RP301R, RP401R, RP501R, RP102
HP series: HP302, HP305, HP307, HP503, HP504, HP505, HP506, HP507, HP508, HP601, HP603A
LX series: LX7, LX10, LX10F, LX15, LX15E, LX17, LX705, LX706
HPi series: HPi5, HPi6, HPi6F, HPi7, HPi7F
Kawai:
CA95, CA97, CA65, CA15, CN34, CN33, CN24, KDP80, KDP90
---